Description
Vitamin C Also Known As Ascorbic Acid
Is used in around 300 functions in the body. The Vitamin is used as an antioxidant that helps with tissue growth and healing wounds. HoneyCombs offers the Vitamin in liquid by itself and in a B-Complex formula that has all eight of the water soluble B-Vitamins.

Foods Naturally High In Vitamin C – Broccoli, Brussels sprouts, lemons, lychees, strawberries, oranges, red and green peppers, tomatoes, sweet and white potatoes, cauliflower and leafy greens.
Why Liquid? Liquid is easier for children and those with weaker digestive systems to absorb the product and get maximum benefit. The vegetable glycerin keeps the enzymes alive and able to activate when the product reaches the stomach. Liquid Is the sure way to get the best results even if you're healthy.
For best results, take one dropper daily.
Vitamin C is found naturally in a variety of foods including citrus fruits (such as oranges and grapefruit) and their juices, as well as red and green pepper, kiwifruit, broccoli, strawberries, baked potatoes, and tomatoes.
No sugar, salt, starch, yeast, wheat, gluten, corn, soy, milk, egg, shellfish, or synthetic preservatives.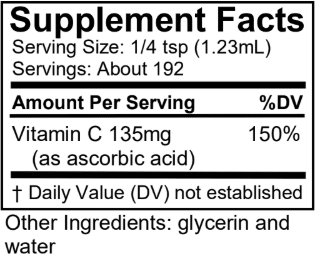 Store in a cool, dry place. Please recycle.