Description
Formula CF
The Formula CF is a combination of herbs that work together to support a healthy Immune System.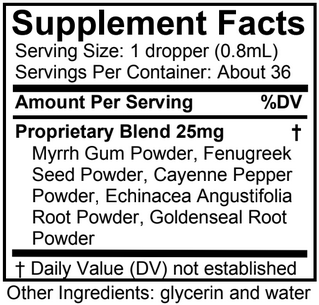 Suggest use: take one dropper after a meal
Non alcoholic liquid herbal formula
Quality tested
Shipped direct from manufacturer
Vegan Friendly
Gluten Free
Nut Free
No artificial ingredients
An herbal combination to support a healthy lifestyle. This formula is made from the highest quality herbs and preserved with vegetable glycerin instead of alcohol. Liquid is a great way to get quick results because it's so easily absorbed into the bloodstream, even for those with weak digestive systems.
This product works great with Eldermint.
This information has not been evaluated by the Food and Drug Administration. This information is not intended to diagnose, treat, cure, or prevent any disease.