Description
Expello–C
The Expello-C combination of herbs work together to Detox the body of harmful toxins and provide food to the healthy bacteria in your gut. Our bodies deal with many harmful toxins that can cause cell damage, weight gain and other health conditions if not taken care of. Damaged cells and/or free radicals can cause a chain reaction that can eventually lead to more serious conditions.
Alcohol Free
Vegan Friendly
No Corn, Soy or Wheat Ingredients
Quality Tested
30 Money Back Guarantee
Store in a cool, dry place. Please recycle.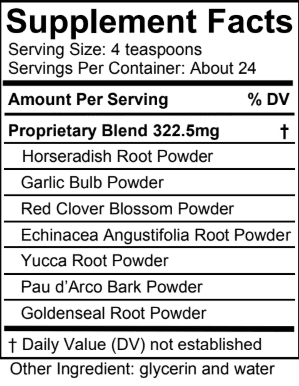 This product is designed to detox the cells. Taking Intestinal Tune Up along with this product may speed up the detox by helping keep the intestines from blocking up.The ingredients in Expello-C are also great prebiotic (food for healthy gut bacteria) and works great with Lactabacillus Acidophilus (Probiotic).
This information has not been evaluated by the Food and Drug Administration. This information is not intended to diagnose, treat, cure, or prevent any disease.