Description
Green Barley –  Chlorophyll is the green pigment found in plants. It's a great blood builder and is known for it's healing properties. The ingredients in Green Barley are naturally high in B-Vitamins and Vitamin K.
Suggested use: Mix 1 teaspoon with 4-6 oz of water and drink for better digestion and energy.
Supports healthy blood and a healthy digestive system.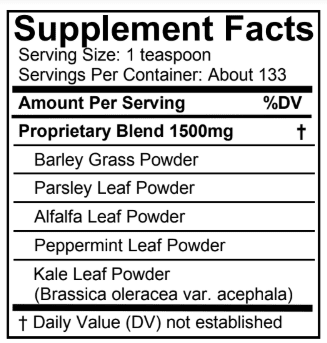 This information has not been evaluated by the Food and Drug Administration. This information is not intended to diagnose, treat, cure, or prevent any disease.