Description
Lactobacillus Acidophilus – 2oz Powder Pro-biotics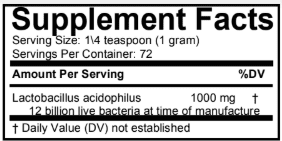 Pro-biotics are gut bacteria that support healthy digestion and the Immune System.
Probiotics give better results and are able to grow when you provide them prebiotics (foods they feed on). Eating a diet with onions, garlic, fruits, dandelion and oats help feed the healthy gut bacteria. HoneyCombs offers Expello-C as a prebiotic formula.
Suggested Use: Mix 1/4 teaspoon with 4oz of either water, juice, shake, smoothy, or milk.
If you have any questions, please contact us.
This information has not been evaluated by the Food and Drug Administration. This information is not intended to diagnose, treat, cure, or prevent any disease.