Description
Green Barley – The quick and easy way to get nutrient dense greens each day. Power greens are nutrient rich and offer both vitamins and minerals along with fiber. They help bridge the nutritional gap from your diet

The Green Barley is for those that want to get more micro-nutrients along with fiber each day. This product is not a meal replacement but can help curb your apatite so that you eat less. It supports digestion for those that want to improve their digestive track. And it's a wonderful blood builder, offering a good amount of chlorophyll.
Made with the Power Greens – Barley Grass, Parsley Leaf, Alfalfa Leaf, Peppermint Leaf, and Kale Leaf.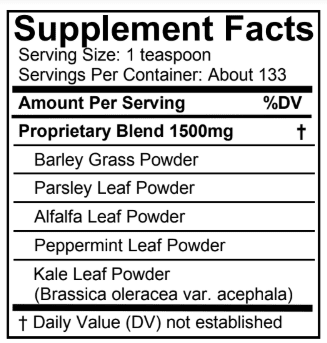 Vegan Friendly Ingredients
Assembled in America with amazing ingredients from all over the world.
Quality tested
30-day money back guarantee
Suggested use: Mix 1 heaping teaspoon with 6-8 oz of water and drink before a meal.
Green barley works great with Acidophilus to bring back your healthy gut bacteria and/ or help them thrive.
**This information has not been evaluated by the Food and Drug Administration. This information is not intended to diagnose, treat, cure, or prevent any disease.