Description
Liquid Vitamin K1 is a fat soluble vitamin, used to produce prothrombin, a protein present in the blood that helps with clotting. It's also a key element in bone building. The vitamin supports healthy liver function by converting glucose into glycogen and storing it.
Quality Tested
30 Day Money Back Guarantee
Liquid supplements may be easier for your body to digest and assimilate as they quickly get into the bloodstream for fast and effective results. Pills, capsules, and tablets can be hard for the body to breakdown, especially for a weakened digestive system.
HoneyCombs products are cold-processed and alcohol-free to support living enzyme activity.
If you have any question concerning this product, feel free to contact us.
HoneyCombs Vitamin K comes in three sizes, 1oz, 8oz and 16oz. The 8oz saves you 10% and the 16oz saves you 15%.
Foods high in Vitamin K include vegetables, especially green leafy vegetables, vegetable oils, and some fruits. Herbs with Vitamin K: Alfalfa, green tea, kelp/bladderwrack, nettle, oat straw and shepherd's purse. The most common sources of vitamin K in the U.S. diet are spinach, broccoli, iceberg lettuce, and fats and oils, particularly soybean and canola oil.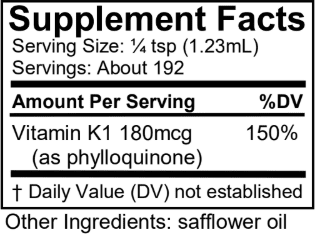 Store in a cool, dry place . Please recycle.
This information has not been evaluated by the Food and Drug Administration. This information is not intended to diagnose, treat, cure, or prevent any disease.