Description
Multivitamin – Thrive Multi-Nutrient Complex
A high potency multivitamin with all eight water soluble B-Vitamins, Vitamin C, Calcium, Alfalfa, and more.
Liquid supplements may be easier for your body to digest and assimilate as they quickly get into the bloodstream for fast and effective results. Pills, capsules, and tablets can be hard for the body to breakdown, especially for a weakened digestive system.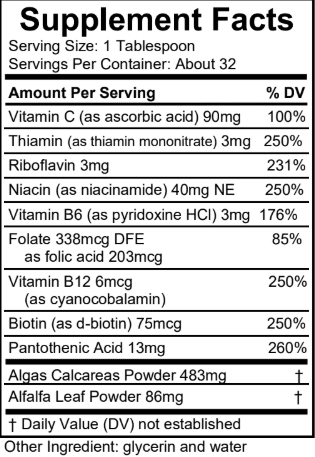 HoneyCombs products are cold-processed and alcohol-free to support living enzyme activity.
Vegan Friendly Ingredients
Assembled In America With Healthy Ingredients From All Over The World
Quality Tested
30 Day Money Back Guarantee
Suggested Use: Take one tablespoon after a meal, daily. Refrigeration not necessary but can be stored in the refrigerator if you like it better chilled.
Ingredients: Thiamine (Vitamin B1), Riboflavin (Vitamin B2) Niacinamide (Vitamin B3), Pantothenic Acid (Vitamin B5), Pyridoxine (Vitamin B6), Biotin (Vitamin B7), Folic Acid (Vitamin B9), Cyanocobalamin (Vitamin B12), Ascorbic Acid (Vitamin C), Natural Vegetable Glycerin, raw 100% certified enzymatically active alfalfa juice, plant based certified organic calcium, concentration of minerals and trace minerals.
Multivitamin 16oz – 30 Day Supply
This information has not been evaluated by the Food and Drug Administration. This information is not intended to diagnose, treat, cure, or prevent any disease.