Description
Vitamin B1 (Thiamin) – A co-enzyme that helps with digestion and energy by converting fats, carbohydrates and proteins into glucose. Vitamins play an important role in a healthy functioning body. A supplement should be taken if you don't get enough in your daily diet.
Non-Alcoholic
GMO Free
Vegan Friendly
Quality Tested
30 Day Money Back Guarantee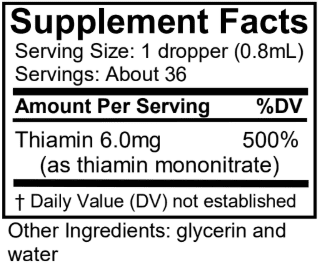 Click here to learn more about our manufacturing process.
This information has not been evaluated by the Food and Drug Administration. This information is not intended to diagnose, treat, cure, or prevent any disease.