Description
Liquid Vitamin B2 also called Riboflavin
Supports a healthy digestive system, healthy brain and much more. Get all 8 water soluble B-Vitamins, plus Vitamin C, in our B-Complex.
Liquid supplements are easiest for the body to digest and assimilate as they quickly get into the bloodstream for fast, effective results. Pills, capsules and tablets are hard for the body to break down, especially for a weakened digestive system. All HoneyCombs products are cold-processed and alcohol-free to keep them as close to their natural form as possible for maximum benefit.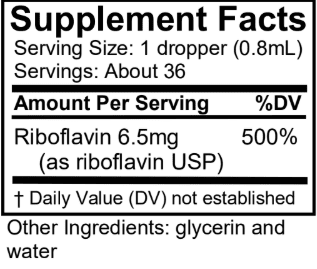 Vitamin B2 (Riboflavin) Starting Material: Glucose; commonly derived from rice or corn starch.
Processing Method: Fermentation; followed by a refinement and purification process which typically includes distillation, crystallization, drying and grinding to appropriate particle size.
This information has not been evaluated by the Food and Drug Administration. This information is not intended to diagnose, treat, cure, or prevent any disease.