Description
Vitamin B3 (Niacin)
A vitamin needed for healthy circulation and skin. The nervous system needs Vitamin B3 (niacin) to metabolize fats, proteins and carbohydrates. The digestive system needs Niacin for production of hydrochloric acid, a digestive acid used to break down protein and as a disinfectant. We offers the Vitamin in liquid by itself and in a B-Complex formula that has all eight of the water soluble B-Vitamins.

Why Liquid? Liquid is easier for children and those with weaker digestive systems to absorb the product and get maximum benefit. The vegetable glycerin keeps the enzymes alive and able to activate when the product reaches the stomach. Liquid Is the sure way to get the best results even if you're healthy
Suggested Use: As a dietary supplement, take 1 full dropper daily with a meal. 1 dropper is equal to 1/4 teaspoon.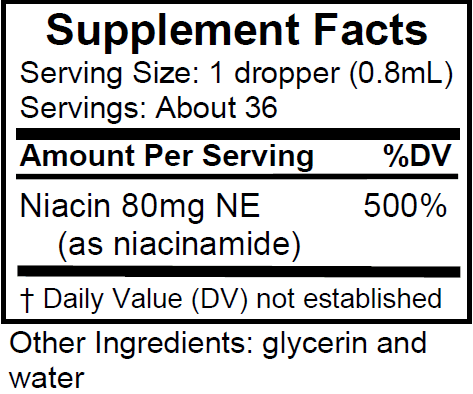 Contains no sugar, salt, starch, yeast, wheat, gluten, corn, soy, milk, egg, shellfish, or preservatives.
Store in a cool, dry place. Please recycle.
Other Ingredients: Glycerin and water.
This information has not been evaluated by the Food and Drug Administration. This information is not intended to diagnose, treat, cure, or prevent any disease.