Description
Formula L (Liver) – Supports A Healthy Liver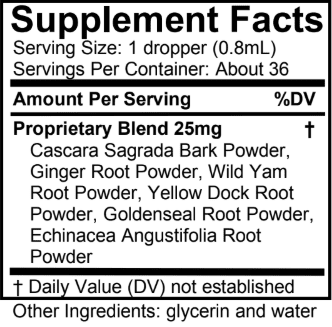 HoneyCombs products are cold-processed and alcohol-free.
Vegan Friendly Ingredients
Assembled in America using amazing ingredients from all over the world.
Quality Tested
30 Day Money Back Guarantee
Suggested Use: Take one dropper (18 Drops) after a meal. You can add to your desired drink (tea, shake, smoothy, ext.) or take by itself.
Liver Flush – Flushing the liver of toxins is a great way to support your liver and the rest of your body. The liver is responsible for over 500 functions in your body, when it's running smooth, most likely the rest of your body is too. To do a liver flush, you will need an 8oz Formula L. Directions: mix 1oz of Formula L with 1/2 gallon of water and drink it throughout the day. You will continue to do this for eight days. Avoid alcohol, soft drinks, and eating too much sugar during these eight days.

If you have any questions regarding this product, your health, or any other products, please contact us
Store in a cool, dry place. Please recycle.
This information has not been evaluated by the Food and Drug Administration. This information is not intended to diagnose, treat, cure, or prevent any disease.