Description
MSM – Joint Health with Glucosamine, Chondroitin and Vitamin C. Joint, muscle, skin, hair and nail health.
MSM – an organic sulfur found in plant and animal tissue. MSM is healthy for hair, skin and nails.  Supports healthy muscle and joints.
Glucosamine – classified as an amino sugar, a component of carbohydrates used in the structure of body tissue, not for energy. Glucosamine helps the formation of nails, tendons, skin, eyes, bones, ligaments,  and heart valves.
Chondroitin –  is healthful in the creation of cartilage. Cartilage is found in the joints and act as a cushion that protects them.
Vitamin C –  A powerful antioxidant that protects against cell damage by fighting free radicals. Also supports a healthy immune system.
Other products that go well with the MSM is Calcom (calcium Complex), B-Complex and the Mineral Complex.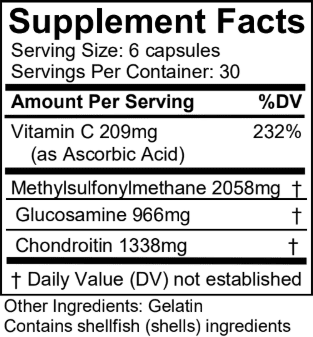 Suggested Use: For best results, take 6 capsules of MSM – Joint Health each day after a meal.
Store in a cool, dry place. Please recycle.
If you have any questions, please feel free to Contact us.
This information has not been evaluated by the Food and Drug Administration. This information is not intended to diagnose, treat, cure, or prevent any disease.