Description
Intestinal Tune Up – Powder
Containing only herbal ingredients, the Intestinal Tune Up is a great way to improve your health and detox. We also offer this great product in Capsules but would suggest sticking with the powder if you have a weak digestive system (capsules can be hard to breakdown for those with a weak digestive system).
Manufactured with whole herb powder so you can be sure you're getting the full benefit of each natural ingredient.
This herbal combination is formulated to break up old, backed up fecal matter and deliver nutrients to the intestines. The colon can hold pounds if waste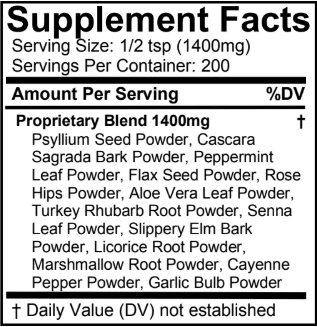 that is full of toxins that can cause constipation and weaken the immune system
This information has not been evaluated by the Food and Drug Administration. This information is not intended to diagnose, treat, cure, or prevent any disease.