Description
Intestinal Tune-Up Capsules
An herbal formulation that supports healthy intestines. Formulated to break up hardened fecal matter, kill parasites, remove toxins, and nourish the intestines. Manufactured with whole herb powder so you can be sure you're getting the full benefit of each healthy ingredient. For those with a weakened digestive system, it's best to use the
Powdered Intestinal Tune-Up
. Capsules can be hard for people with a weak digestive system to break down.
Supports a healthy digestive system.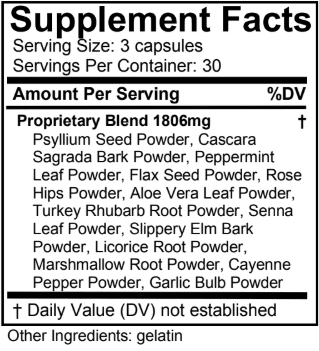 Ingredient break down:
Psyllium Seed Powder – A great source of fiber to add bulk and help with bowel movements.
Peppermint Leaf
– Increases stomach acidity (weak acidity causes heart burn) and soothes the stomach of indigestion.
Flax Seed Powder – Helps with colon problems and is a healthy fiber.
Aloe Vera Leaf – Soothes stomach irritation and is a laxative.
Rhubarb Root Powder – Good for colon disorders, eliminates worms and helps duodenal ulcers. Supports healthy liver and gallbladder.
Senna Leaf Powder – Used for irritable bowel syndrome, hemorrhoids, and acts as a laxative that clears the intestinal walls.
Slippery Elm Bark
– Soothes inflamed mucous membranes in the bowels and stomach. Very beneficial for GI tract disorders. Good for diarrhea and ulcers.
Marshmallow Root
– Coats the intestines in a mucus like layer to help heal small tears and other intestinal problems.
Garlic Bulb
– Very healing to the digestive system and helps detox the intestines.
This information has not been evaluated by the Food and Drug Administration. This information is not intended to diagnose, treat, cure, or prevent any disease.