Description
Eldermint – Elderflower and Peppermint in a concentrated liquid tea to give you that warm comfort when needed. Add liquid Eldermint to hot water and enjoy.

Non-alcoholic liquid herbal extract
Vegan Friendly
Assembled in America with ingredients from all over the world
Quality assured and Tested
Supports a Healthy Immune System
Suggested Use:
As an herbal dietary supplement, take 4oz of hot water to every 1 tablespoon of Eldermint to make a tea. Drink as many cups of hot water and Eldermint combination as needed. Caution: tea will be hot.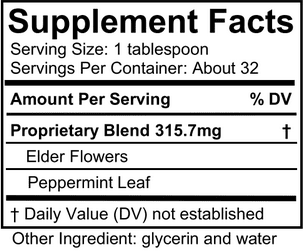 Store in a cool, dry place. Please recycle
This information has not been evaluated by the Food and Drug Administration. This information is not intended to diagnose, treat, cure, or prevent any disease