Description
Formula KB
Supports healthy Kidneys and Bladder.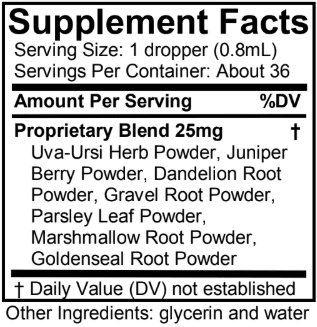 Non Alcoholic
Vegan Friendly
Non GMO Ingredients
Gluten and Nut Free
No Shellfish
No Artificial Ingredients
Quality Tested
Get more out of liquid – Liquid is easier to absorb especially for those with a weak digestive system, children and those that are ingredient sensitive. Liquid is easily absorbed into the bloodstream for quicker results.
Formula KB is an herbal formula that's preserved with vegetable glycerin from palm oil. Glycerine has a sweet taste but does NOT cause an insulin response. It's derived from fat but is water soluble and easy to process.
Suggested Use: Take one dropper after a meal once a day. Squeeze the bulb on top the dropper to push air out and then release while submerged in product. 1 dropper is approximately 3/4 the way full with the top 1/4 empty.
Herb Breakdown: Click the link to learn more
This information has not been evaluated by the Food and Drug Administration. This information is not intended to diagnose, treat, cure, or prevent any disease.