Description
Green Barley
Plant base fiber
Support digestion
Supports gut flora
Supports regularity
high in chlorophyll
A great blend of greens for extra daily nutrition.
Vegan Friendly Ingredients
Assembled in America with amazing ingredients from all over the world.
Quality tested
30-day money back guarantee
Suggested use: Mix 1 heaping teaspoon with 6-8 oz of water.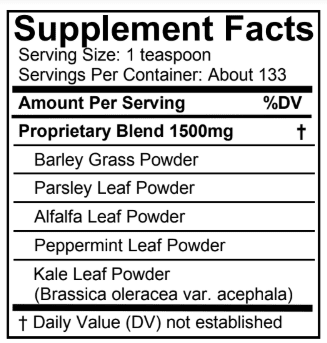 This information has not been evaluated by the Food and Drug Administration. This information is not intended to diagnose, treat, cure, or prevent any disease.