Description
Yucca Root

Supports healthy blood and healthy joints.
Liquid supplements are easiest for the body to digest and assimilate as they quickly get into the bloodstream for fast, effective results.Yucca is a wonderful herb that has many benefits. Add Liquid Yucca Root to teas, shakes and smoothies.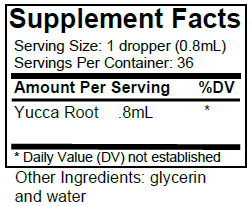 Other names for Yucca
Yucca glauca (Eastern), Yucca schidigera (Southern), Yucca brevifolia (Western), Yucca filamentosa (Mexican), Soap-tree, Soapweed, Soapwell, Soap Root, Adam's Needle
This information has not been evaluated by the Food and Drug Administration. This information is not intended to diagnose, treat, cure, or prevent any disease.