Description
Yucca Root – A desert plant that's native to south-western United States and northern Mexico. Used by the natives for centuries for it's medicinal benefits for the skin, hair, and joints.
Skin and Hair Support – Yucca contains nutrients (Vitamin C, Naringenin, and Resvertral) that nourish and protect the skin.
Supports Healthy Joints – Yucca is a great source of steroidal saponins, a phytochemical that may suppress intestinal protozoa (a type of parasite that feed on tissue and other microorganisms) that cause joint problems.
Other Benefits:
Supports Healthy Cholesterol Levels
Supports Healthy Blood Sugar Levels
Supports a Healthy Immune System
HoneyCombs Liquid Yucca Root Extract is cold-processed and alcohol-free… Learn more
Vegan Friendly Ingredients
Assembled In America With Ingredients From All Over The World
3rd Party Quality Tested
30 Day Money Back Guarantee
Yucca Extract works well with Capsicum Extract.
Suggested Use: Take one dropper (18 Drops) after a meal. You can add to your desired drink (tea, shake, smoothy, ext.) or take by itself.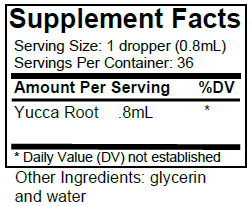 Other names for Yucca
Yucca glauca (Eastern), Yucca schidigera (Southern), Yucca brevifolia (Western), Yucca filamentosa (Mexican), Soap-tree, Soapweed, Soapwell, Soap Root, Adam's Needle
**This information has not been evaluated by the Food and Drug Administration. This information is not intended to diagnose, treat, cure, or prevent any disease.